The National Institute for African Studies have pioneered a range of initiatives over the last two decades. NIAS cooperates with partners from various spheres to achieve its projects and programme objectives.
Current NIAS initiatives:
Our initiatives are designed to positively impact local communities wherever we operate and beyond.  We currently have  5 initiatives based in London.
To learn about a particular NIAS initiative, please click on the link above to learn more.  
You may also contact the Projects Coordination team on 01753 208 776. Email: services@africanstudies.org.uk
NIAS has been able to deliver initiatives well above its human and financial resources by virtue of the commitment and outstanding efforts of its team of interns and volunteers from across the world! 
⇒Do you want to be a Change-Maker in your local community? Do you have some spare time?  Then, Join our volunteer team today. 
Send your CV to volunteer@africanstudies.org.uk  to start your volunteering journey with NIAS.
1. PhD Fellowship
NIAS aims to create opportunities for early-career researchers through the NIAS PhD fellowship scheme. This initiative will offer talented early career researchers the opportunity to undertake high-quality studies that will advance their careers, and to further explore development stimulus in the African context. The PhD Fellowship adds value for participants in two key areas:
Mentoring
The prospective student will receive assistance in selecting their research topic and how to successfully write-up a comprehensive and persuasive research proposal. In terms of editing, reviewing, and publishing finished work, coaching will be offered throughout these processes. This will be in the form of either one-to-one sessions or group seminars.
Sponsorship
Finding funding for a PhD is a crucial aspect of a doctorate project. Another facet of NIAS PhD Fellowship is the offer of information, advice and guidance with funding, working with NIAS partnership network and other public/private funding sources.
To be added to the mailing list for our next Call for Proposals, please send your cover letter indicating areas of interest and CV to publications@africanstudies.org.uk
2. The Saharan Journal

The Saharan is a new interdisciplinary journal aimed at exploring the dynamic relationship between culture and development in Africa. Development is a multi-dimensional process focused to change the structures, attitudes, and institutions to accelerate economic growth, reduce inequality and eradicate absolute poverty. While cultural dimensions of a society play a nominal role to shape the development processes, those are frequently neglected due to various political and economic reasons. This journal seeks to revitalize applied cultural studies to answer the following questions: How cultural diversity affects what people do and want? How cultural factors interact with other variables of the development processes? And how culture itself is affected by various dynamics of development on the international scale?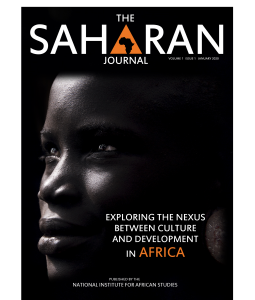 The Saharan aims to fulfill the need for academic writing that meets rigorous criteria of editorial filtering in terms of originality, vision, impact, structure, and style. The reviewing process is overseen by the editors of the journal, and is subject to a strict qualitative assessment that meets the approval of the editorial board, and fulfills the submission guidelines. The editorial and advisory board are made up of high-ranking academics, scholars and specialized practitioners with a wealth of experience in academic work on Africa and elsewhere.
The Saharan seeks to engage outstanding authors, academics, artists and all other pertinent contributors to African dominion. Ultimately, the journal is committed to fostering a nonpartisan venue that challenges established views and perceptions of Africa whilst promoting flawless frameworks for representation and interpretation.
To submit your manuscript click here or contact publications@africanstudies.org.uk
3. Virtual Internship Opportunities
A virtual internship is a one-to-one virtual experience with coaching and mentoring. The internship provides hands-on experience that will make the participants grow into influential leaders that can empower future teams.
Remote/virtual internships enable ambitious professionals to develop a strong understanding of the structure and strategy of non governmental organisations. Remote interns can gain experience with NIAS and other NGOs to tackle an extensive range of issues within the public policy and sustainable development spheres.
Responsibilities at virtual internships may include:
Managing & Administration of Projects/People
Editing and writing academic content
Creating digital promotional materials
Organising and helping at events
Assisting with campaigns
Conducting research for funding opportunities
Publishing and copyediting articles
Types of internships
Management Internship
This internship offers participants the opportunity to apply knowledge acquired in the classroom to real-world situations under the guidance and mentorship of an experienced manager.
Responsibilities include:
Managing a NIAS Initiative or an aspect of it
Working in Human Resources and Office Administration
Reviewing and Updating Organisation Management Systems
Coordinating staff, volunteers and public facing seminars/workshops
Complete written projects and research proposals for funding
Prepare and present business/project proposals for senior management approval
Journalism Internship
Our remote journalism internships enable driven media professionals to develop invaluable experience within the news industry. Online journalism allows developing professionals by giving them the opportunity to publish news articles, interview people, and review other media platforms.
Responsibilities include:
Drafting social media posts and website content
Writing blogs, press releases, newsletters and editorials
Gathering data and conducting research on relevant topics
Scheduling and implementing interviews and meetings
Publishing Assistant Internship
The role's duties include supporting of the editorial process of The Saharan journal, a new interdisciplinary journal published by NIAS aimed at exploring the dynamic relationship between culture and development in Africa.
Responsibilities include:
Support the editors in the production of blog and journal publications
Checking the material for completeness, copy-edit and check appropriate non-technical material such as Facebook, LinkedIn and Twitter updates
Generate, check and correct files with names, contact information, number of articles, review assessments, and consent forms.
Use your LinkedIn account to connect to academics and groups to promote the journal, acquire papers, and attract skilled scholars to become reviewers
Coordinate the publication flow of the journal and all stages of the editorial processes upon the release of each issue
Review and adjust publications according to the style of the journal, ensuring the correct usage of references and plagiarism checking
Research assistant
The position would appeal to individuals who are looking to gain experience and detailed knowledge on the cultural, socio-economic and political dynamics of Africa. The core task of the Research Assistant is to provide research and administrative support to the NIAS London office. A substantial part of the research work will focus on Sahel countries' affairs and international relations revolving around them.
Responsibilities include:
Carrying out basic study, data-gathering and desktop research under the direction and a supervision
Organising materials in effective and replicable manner
Performing, as required, basic administrative tasks, which comprise general office administration, scheduling, supporting in organising NIAS events and assisting the supervisor to attend external conferences
Promoting new ideas along with completing existing projects
Demonstrating the ability to multitask, meet deadlines and demonstrate initiative and autonomy while working under supervision
Embracing both administrative and research duties as career development
To apply for a role send your CV and a covering letter to volunteers@africanstudies.org.uk
4. Creative Campus TM
The Creative Campus is a NIAS Initiative that offers a platform for budding local change-makers to take their first steps towards fulfilling their passions. The project started in 2016 with seed funding from the BBC, targeting young creative entrepreneurs in Berkshire, England. It has now been expanded by NIAS across London and the home counties to cater to all types of change-makers. From entrepreneurs to single issue campaigners and activists.
The campus offers members' access to mentoring, training, workshops, meetings and work spaces at highly subsidised rates to help you power your dreams by taking calculated risks in a safe space. 
 The Campus offers members access to:
Workshops and Seminars
Mentorship
Meeting/Workspaces (Highly Subsidised)
Networking (social and business)
High Speed Internet (Free)
Storage Spaces
For more information, please contact office@creativecampus.co.uk
5. Arewa Economic Club
This non-partisan forum for intellectuals, practitioners and interested parties to debate and proffer solutions to some of the socio-economic challenges in northern Nigeria. At its core, it is a networking forum for people with a shared passion to eliminate contemporary social and infrastructural issues in northern Nigeria. 
The forum is currently working on its flagship initiative, the Arewa Recovery Plan. The Plan seeks to produce a strategic action plan for the economic revival and infrastructural regeneration of the Northern Nigeria, through trade and investment. The document will aggregate and updated previous public and private sector led studies and plans targeted at the same issues bedevilling the region and help to chart a way forward. 
The Club's objectives are:
 Facilitate social and economic regeneration in the Arewa region

Encourage reform of key institutions and policies
The project advocates for reforms mainly in health, agriculture, industrialisation and new digital industries sectors.
For more information, please contact office@arewaclub.com
6. Student Hardship Fund

The SHF is open to individuals from the last-year of a Bachelors, or fulltime Masters and PhD students.  The NIAS Fund is directed to offer emergency help for international students on a low income who may need extra help/guidance or little financial assistance to be able to remain on their course once universities resume. Applicants will undergo a needs assessment prior to approval. Payments may include grants or short-term loans depending on the specific circumstances and amount of help required.
Start your Application
To apply please forward your request to publications@africanstudies.org.uk
Files to download:
Along with the applications form, you will submit a maximum 250 words statement on why you believe that you would qualify for the NIAS Hardship Fund support and the level of support required. Once your statement is received, a member of the team will contact you to give further directions.
Our best tip: be honest and make sure you can provide sufficient proof of reason for applying, the level of support requested, and support letter from your academic supervisor/mentor.  Good luck with your application!
7. Charity Shop & Art Gallery
The Institute operates a successful Charity Shop and Art Gallery in Wimbledon, South West London.
Every day our talented team of volunteers and employees process dozens of newly-donated items, including but not limited to second-hand women's and men's clothing, children's toys, furniture and home accessories, not to mention an extensive collection of books, vinyl's, and quirky souvenirs.
Our Art Gallery displays quality local art from local artists. We also offer local and international artists' residencies focusing on African art and culture. We display the original works in the gallery and offer prints for art enthusiasts to purchase. Notable artists that we have recently featured include Alexandru Paun, Ping Lin, Melody Travellers, and Branko Kastelic.

The revenue generated by the store and gallery contributes towards our Creative Campus' programmes.
We are always looking to take on new local artists and provide a platform and forum for displaying new ideas. If you feel your art would be a suitable match for the NIAS Art Gallery, please send a portfolio of your work to gallery@africanstudies.org.uk
For more information about the charity shop, visit our website or contact  shop@africanstudies.org.uk